We woke up this morning to thunder. Thunder that sounded like something enormous, dragging something huge across the sky. It didn't sound at all like thunder & for a few seconds I was very confused, as it was *almost* mechanical sounding. Then the next flash of lightning came, followed quickly by the next crack of thunder & I knew what it was. I kept waiting for the sound of rain falling, but it never came. Why? Because snow doesn't make any sound: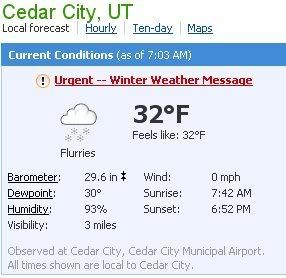 Of course, I only had a passing thought that it might be snowing, as its stil fairly early for it, even here, at the base of the mountain. So, even in my passsing, hazy, early morning thoughts, I assumed it would be a small dusting & nothing of importance. Shortly after I got out of bed, Rhi asked for a ride to school because there was "a little snow on the ground." I still thought it must be a dusting, until I looked out the hall window on my way to the living room. There must be 4 inches on the ground! I don't think I remember a first snowfall of more than an inch, not since we've lived here, at any rate. So, Rhi got a ride to school, and hopefully it'll be gone by tomorrow. (hopefully because she really loves that scooter & the freedom to go when she wants to)
Speaking of Rhi, she seems to be doing a whole lot better with the whole break-up thing. She's dressing nicely & doing her hair & makeup again, so at least she cares what she looks like, which is a vast improvement over 3 weeks ago. She may be BSing me & just doing it to make me happy, but I'm of the opinion if you act happy long enough, you will eventually feel happy.
Still no news on whether Erin & Alisha have managed to find jobs yet. I did take him to get his paycheck from his previous job yesterday. He said he was still waiting to hear back from a few places & that Alisha had taken their applications to Wendy's that morning. It would be helpful to them if they still had a car, but Alisha's broke down a couple of weeks ago & I don't know what happened after that. I was told they were working on getting it fixed, but I haven't heard anything else & they still have no car. So, I guess we'll just have to wait & see.
I don't feel well this week, I think I have a cold or a touch of the flu. Whatever it is, all I want to do is sleep. Or whine. My head hurts, my eyes are heavy & my throat is sore, too. I wake up every morning at abou 3:30 or 4 coughing & then I can't go back to sleep for at least an hour. And then there's the stupid fever and occasional nausea. Living in my body is fun times right now. Yay. Not.