I have a feeling that this will be an ongoing problem throughout the summer. Part of the noise lately, is again being directed at my neighbor, Rabbit, because he stood up to someone in this trailer park. There's this kid, he's about 10 or so, we have no idea which house he lives in or when he moved here, but he apparently believes that he owns every area in this park. He feels like he can be in which ever yard, car, van or driveway he feels like and none of us can say anything about it. He was trying to get into Erin's van yesterday and Troy went out there & yelled at him and his friend. When we left to go to Dawn's yesterday afternoon, Rabbit told us he was standing under our big front windows taunting Tiny by shoving his skateboard up towards her over & over again. He was also jumping out in front of Rhi & her friend as they were riding her scooter around the trailer park & just standing there. Why do people raise their kids to be so disrespectful or other people's property?

And in other news? On May 30, at 11:05am, we welcomed little Elyssabeth Sahara Davis into the world: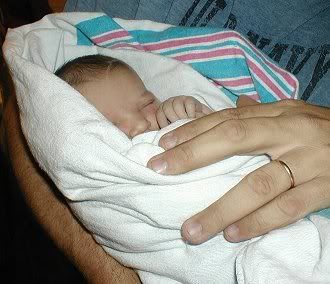 She weighed 7 pounds 13 ounces and was 20 inches long. Troy is her grandpa, because Morgan (the mommy), never knew her dad, and Troy is the closest thing she's ever had, and Roger (the daddy) insists that I'm her grandma, too, so she's a lucky little girl, with two grandpas and three grannies to spoil her.